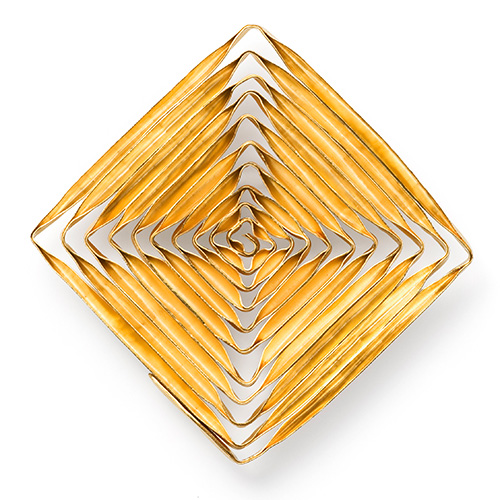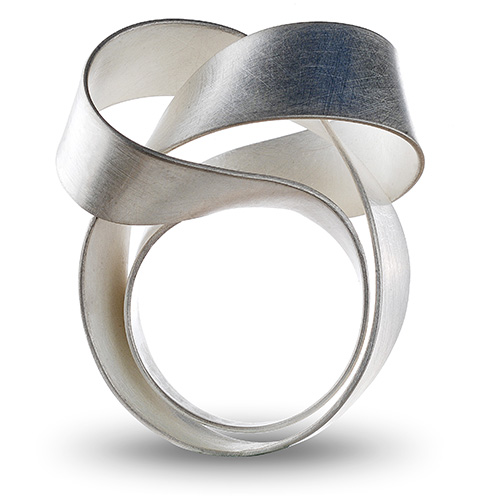 Von Art Aurea / Portrait Kazuko Nishibayashi > Hier zum ganzen  Portrait

Der Schmuck der japanischen Designerin Kazuko Nishibayashi überzeugt durch zeitlos klare Formen von skulpturaler, sinnlicher Qualität. Die japanische Handschrift ihrer Entwürfe ist offensichtlich.
Die künstlerische Auseinandersetzung mit Leere und Form ist für die Designerin eine wesentliche Grundlage Ihres Schaffens.
Erst durch die Wechselwirkung mit dem Zwischenraum bekomme die Form ihre Gestalt, erklärt sie.
"Für mich hat das Leere den gleichen Stellenwert wie die Materie."
Oft sind die raffinierten Arbeiten nur aus einem einzigen Stück Edelmetall gefaltet, gewickelt oder geschnitten.
Beim Betrachten des Schmucks aus verschiedenen Perspektiven erschließt sich eine gut balancierte Komposition aus Zwischenraum und Form.
From Art Aurea / Portrait Kazuko Nishibayashi > read more
The jewelry created by Japanese designer Kazuko Nishibayashi is characterized by compellingly timeless, cleanly-cut shapes of sensuous three-dimensionality. These unique qualities typify the obvious Japanese style prsent in all her pieces.
Her artistic in-depth involvement with the themes of form and empty space constitutes an essential basis for this designer. It's only in correlation with interstitial space that forms can be transmuted into designs, she explains.
"For me, empty spaces are as important as physical matter," she says.
Many of her sophisticated creations have been folded, bent, looped or cut from one single piece of precious metal. When viewed from different perspectives, her jewelry creations reveal themselves as harmoniously crafted compositions of interstitial space and solid form.